Best Resources for Startups in Dubai and UAE
Why choose UAE as a home for your Startup?
As a person who is about to embark on the entrepreneurial voyage or as a business owner of the already established startup, you may ask yourself why to select Dubai or UAE as a home for your startup?
According to The Global Innovation Index (GII) which explores a broad vision of innovation, including political environment, education, infrastructure, business sophistication, and provides a detailed metrics about the innovation performance of 126 countries, the UAE is by far the best country in the Arab world.
This is a major achievement, but for someone who is embroiled with entrepreneurship and innovation and who is competitive and commercial from the young age, as Emiratis are, this is not good enough.  That is why in October 2014 Sheikh Mohammed bin Rashid Al Maktoum, Vice President and Prime Minister of the UAE, announced the National Innovation Strategy, to become one of the world's most innovative nations within 7 years, making this plan a primary tool to achieve Vision 2021.
What incentives are available for Startups in UAE?
Government Support
Free zones are long considered as a backbone of the UAE unique business ecosystem, wherein certain designated locations the business conditions as ownership, taxes or employment don't apply. For example, Dubai Multi Commodities Centre (DMCC) offers favorable 0% corporate and personal tax for 50 years. The news is the government announced it will be allowing 100% foreign ownership of mainland companies, which was only 49% before.
In line with that, Dubai SME's business incubator license offers 100% ownership to innovative entrepreneurs and students who come up with a novel idea.
The Emirates Science, Technology and Innovation Higher Policy are a set of plans worth more than Dh 300 billion to foster a knowledge economy and innovation and prepare the UAE for a world after oil. It includes 100 initiatives with major investments in education, health, energy, transport, space, and water.
Some of the outcomes of this policy are Dubai Science Park and Masdar City in Abu Dhabi, which are established to promote innovation, sustainability, research, and creativity.
Mohammed Bin Rashid Centre for Government Innovation was established in September 2014 to encourage and motivate innovation in the public sector and thus make the UAE government one of the most innovative governments around the world.
Lower fees
The lion's share of Dubai revenues is raised through state fees such as business licensing, real estate approvals, parking, and transport. In order to sustain and promote competitiveness after the introduction of VAT in 2018, the government of Dubai froze all fees for the next three years.
Low Taxes
While the UAE in 2018 introduced VAT of 5% on some products and services there is still 0% on Corporate and Personal Tax. 
Top 10 Startup Hubs and Technology Centers in UAE
The UAE is a well-known technology center. As I already mentioned, the culture of innovation and entrepreneurship is a part of the national strategy aiming to become one of the most innovative societies in the world.
Dubai is home to some of the best technology and startup hubs in the world
The largest technology hub in the MENA region is Dubai Technology Entrepreneurship Center or DTEC. The 5000sqm of creatively designed space is home to more than 800 startups. DTEC is currently reshaping its brand (name change to Dubai Technology Entrepreneurship Campus) and increasing the space in order to host and foster more than 1000 startups, in following 2019.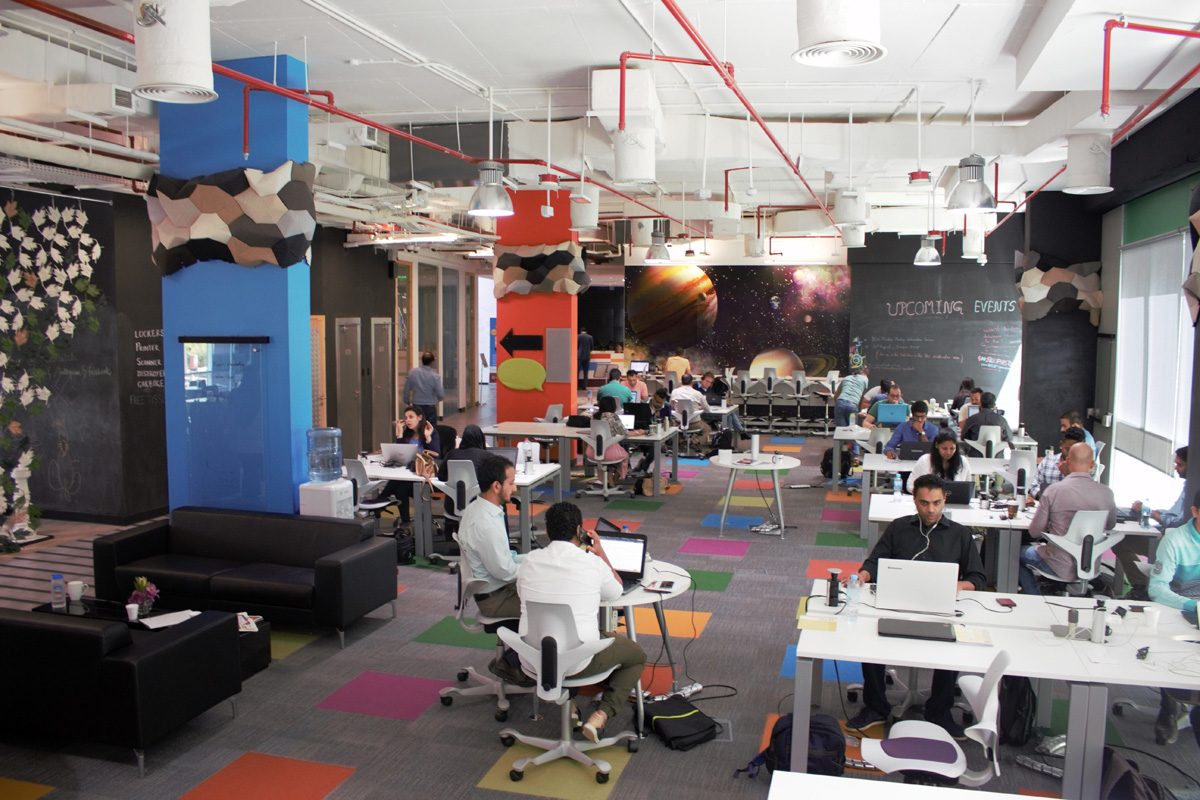 The best thing about DTEC is that as an entrepreneur you have everything under one roof:
co-working space or completely own office;
accelerator programs;
funding opportunities
Add a bunch of workshops and networking events, leisure and gaming facilities (e.g. a running track) and a lot of services (legal, accounting) offered by various sponsors and third party partners and you will get the most vibrant startup community in the UAE and this region.
FinTech Hive is the first and largest fintech accelerator in the Middle East, Africa and South Asia (MEASA), launched in 2017 by Dubai International Financial Centre (DIFC) together with professional services company Accenture.
In the current second year edition, 22 finalists (out of 300) will have an opportunity to showcase and work together in DIFC, with partner financial and insurance institutions in 12-week mentorship and networking programme.
Dubai Future Accelerators(DFA) facilitates partnerships between entrepreneurs, private sector organizations and government entities to co-create solutions. Dubai Future Accelerators was launched in 2016 by His Highness Sheikh Hamdan bin Mohammed bin Rashid al Maktoum, Crown Prince of Dubai and Chairman of Dubai Future Foundation under the directives of His Highness Sheikh Mohammed bin Rashid Al Maktoum, Ruler of Dubai.
DFA is not an incubator but a platform where public and private sector merge to co-create global and local solutions for tomorrow. The program is 9-week long and if successful it ends with MOU signed between the particular company and government partners.
AstroLabs is the first tech hub that is partnered with Google (Google For Entrepreneurs) in Dubai. As the region's premier co-working community and learning academy for digital technology companies its mission is to create a thriving technology ecosystem in UAE and MENA region.
AstroLabs offers 3 packages for you to choose and as a network member, you will have access to over twenty hubs in various cities in the world.
TechStars Dubai is another accelerator that provides accelerator portfolio companies with access to financial, human and intellectual capital to fuel the success of their business.
The accelerator program takes 90 days to finish and starts in January. Participating companies receive $100,000 in a convertible note and $20,000 from TechStars, which is used as a stipend to support living expenses during the program. In return, TechStars receives 6% in common stock from each company.
It's worth to say your company will have an opportunity to tap into vast Techstars worldwide resources:
a worldwide network of entrepreneurs including more than 10,000 mentors;
2,700 investors;
1,200 alumni companies and 180 staff members.
The accelerator program is made in partnership with GINCO Group a full service contracting company.
In5, an initiative launched by Tecom Group is an enabling platform for students, entrepreneurs, and startups. Like many others on this list, In5 offers strong business set-up framework, training and mentorship, networking, investment opportunities, and cutting-edge prototyping labs, studios, and creative workspaces.
In5 is comprised of three innovation centers: Tech, Design, and Media, each providing an excellent infrastructure to a community of creative and supporting minds.
The membership is annual and prices are affordable, starting from AED 400 at the lower end for Students and AED 1000 at the higher end for Entrepreneur & Industry Professional.
Sheraa is The Sharjah Entrepreneurship Center and it was inaugurated by His Highness Dr. Sheikh Sultan bin Mohammed Al Qasimi, Member of the Supreme Council and Ruler of Sharjah. It is Sharjah's version of DTEC.
At Sheraa entrepreneurs have access to office space, free license, a pool of resources, including mentoring sessions, team building workshops, and hackathons. Shera's accelerator programs (idea lab, pre-seed, seed and series a), for startups in different stages of development, is the first in the UAE held within the university – American University of Sharjah (AUS).
Sheraa established one of the largest entrepreneurship festivals in the UAE – Sharjah Entrepreneurship Festival.
TURN8 is a venture fund comprised of a growth accelerator program complemented by a follow-on investment fund. Startup teams in TURN8 are fueled with investment, mentorship, training and year-long business development support. Follow-on investment helps them scale and grow globally.
TURN8 growth accelerator offers several rounds per year focused on startups with minimum viable product innovations (MVPs) and immediate product-to-market fit in the MENA region.
startAD is an innovation and entrepreneurship platform that supports startups in the UAE at every stage of their development. Same as Sheraa it is also hosted at the university – New York University Abu Dhabi.
startAD seeks to strengthen the entrepreneurial ecosystem in the UAE by offering core programs and education initiatives for all members of the local startup community – from innovators to early-stage entrepreneurs to investors. Entrepreneurs and startups can apply to the 5 core programs:
Venture Launchpad – for early-stage startups, 10-day sprint accelerator;
Al Warsha – open space for creativity and innovation, free for everyone;
Beyond the Pitch – startup program for all UAE youth (18-25 age range) residents, lasting 3-month;
startInvest – quarterly education sessions with 30 investors per program;
Founder School – semester-long workshop series open to everyone in the UAE that provides the training and resources to successfully launch and grow a startup.
One of the catalysts of economic growth in Abu Dhabi, Northern Emirates and even internationally is the Khalifa Fund for Enterprise Development.  As stated on their website, 'The purpose of establishing the fund is to help develop local enterprises in Abu Dhabi by instilling and enriching the culture of investment amongst UAE nationals, as well as supporting and developing small to medium-sized investments.'
The fund launched more than 800 awareness campaigns targeting university and school students to ignite tech culture and innovation among the students.
Bonus Startup Resources – Conferences and Festivals
Organized by Dubai World Trade Center, Gitex Tech Week is the gathering of entrepreneurs, local government companies, global organizations, startups and technology enthusiasts all looking into new technologies and innovations.
It Doesn't Get Bigger than GITEX
Right from world-famous industry names to Silicon Valley's hottest startups, everyone heads to GITEX in anticipation of big business partnerships, future-ready gear, and booming successes.
Sharjah Entrepreneurship Festival (SharjahEF) is one of the largest entrepreneurship festivals in the UAE. Organized by Sharjah Entrepreneurship Center (Sheraa), it is held under the patronage of H.E. Sheikha Bodour Bint Sultan Al Qassimi, Chairperson of Sheraa and Sharjah Investment and Development Authority (Shurooq).
Dare to be different
This year's second edition was a two-day event at Sharjah Golf and Shooting Club venue and included some big names in speaker lineup as Gary Vaynerchuk, Dona Benton, and others.
AIM Startup, an initiative of the UAE Ministry of Economy, was launched in 2017 aiming to connect promising startups with investors and business partners from all around the world.
Harnessing Global Digitization to Empower Startup and SMEs 
AIM Startup is the ideal platform for startup companies looking to raise capital, expand into new markets and forge meaningful business relationships with major investors, business leaders, representatives of international institutions and government entities.
How about your experiences?
What's your favorite startup event in the UAE?
Let's talk about it in the comments.